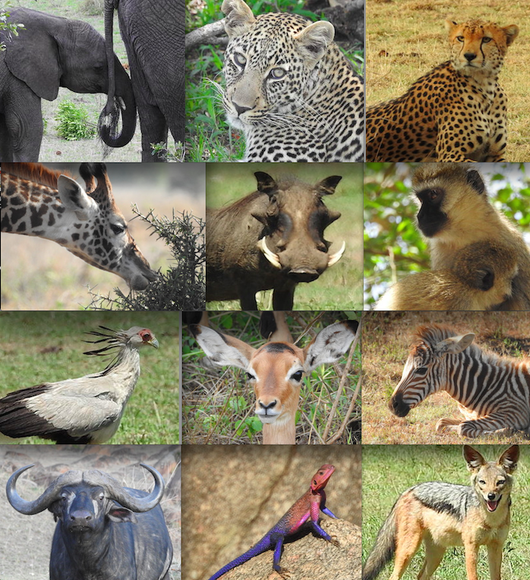 Spotlight Project
The essence of wildlife conservation must be preserving habitat.
You can save all the wildlife you want, but it doesn't matter in the end unless they have a place to live!
Creatura is currently supporting the Olderkesi Conservancy in Kenya- a place of incredible natural beauty, abundant wildlife, and innovative conservation thinking. This project works because it creates a much needed haven for wildlife while empowering the local Maasai community…but it needs our help.

What's the deal?


Our current spotlight project is working with the newest conservancy in Kenya's Maasai Mara ecosystem: the Olderkesi Conservancy!
 
This is a piece of land adjacent to the southeast corner of the Maasai Mara National Reserve, just north of Tanzania's Serengeti National Park. The Maasai Mara is considered one of the great wonders of the world, but the government-managed parkland is only part of the ecosystem: the beauty and wildlife are also spread out into the multiple conservancies ringing the park. In fact, at last count, there was more wildlife located within the conservancies than within the park itself.  



 So, what exactly IS a conservancy?  Well, it's privately-owned land that is cooperatively managed to provide havens for wildlife while also factoring in the needs of the people who own the land. Some have for profit eco tourism businesses within them like lodges and camps, some do not. However, finding the balance between humans and wildlife is where the challenge lies- these lands are under increasing, profound threats from rampant poaching, destructive grazing practices, fencing, farming, and other human settlement that often is at odds with habitat preservation. 

Olderkesi is implementing a new model of conservation- one that has the best chance of effectively working and demonstrating practices that could be replicated on a global level. 


 Some Background 
 
The particular piece of land that the Olderkesi Conservancy occupies is vitally important to the greater ecosystem and comprises multiple types of habitat, including grasslands, riverine valleys, forests, and woodlands. It's a haven for many species of wildlife, not to mention a route for the great wildebeest migration. It's also home to the Maasai - a strongly independent people who still value tradition and ritual as part of their everyday lives. Historically, the Maasai are semi-nomadic pastorialists, placing huge importance on their herds of cattle, but also living alongside wildlife in harmony, with lions and wildebeest playing an important role in their cultural beliefs. 
 
As global warming contributes to more frequent and more devastating droughts, the Maasai have concluded that keeping some spaces wild generates more benefit than overgrazing livestock and the subsequent ruin that combined with drought can bring to their herds. As a result, they have agreed to set aside a portion of land for wildlife habitat restoration and encourage land leasing and eco-tourism as a new source of income. As the Maasai culture adapts to climate change and the opportunities brought about by new exposure to the rest of the world via the internet, community leaders are embracing change and working to make sure their culture is preserved while simultaneously taking part and being competitive in a global community.
How does it work?

In simple terms it's known as 'land leasing'. The conservancy is managed by two trusts: Cottar's Wildlife Conservancy Trust (CWCT) and Olderkesi Wildlife Community Trust (OWCT). These two groups have worked closely together over the past 20 years to create a vital, truly sustainable conservancy management plan. 
 
Olderkesi Conservancy is owned by the Maasai, who are the OWCT, but it is rented by Cottar's Wildlife Conservancy Trust.  CWCT arranges a long-term lease of land from the OWCT, paying fair rates that exceed what could be charged by sub-dividing land for increased human habitation, farming, and ranching. This is most easily described as 'renting land for wildlife.' Rent payments go to the entire community, not just a few leaders in the group- everyone gets an equal share. CWCT also assists with creating opportunity and growth for the community in other ways. To date, the CWCT has built schools, provided medical and ambulance services, employed security scouts from the community, installed radio communication networks, built water troughs for cattle, and provided bursaries and local assistance to protect local cedar forests from predatory logging.  In return, the leased land is to be left alone, free of settlements, farming, and grazing, and exists to create safe habitat and passage for wildlife. The Maasai agree to live on other sections of their land, supported in part by the payments from the Conservancy. The land use policies are enforced by the Maasai people, with assistance from CWCT where necessary.
In general, communities don't want to be completely rid of wildlife, but they have to see a benefit to the risks in having it around. Conflict arises when humans and wildlife clash due to space encroachment…people are less inclined to want elephants around when they can destroy a whole season's crop in one night, or when lions can kill valuable cattle, or little kids are at risk from desperate wildlife searching for territory and food. Setting aside land for wildlife and providing monetary benefits to the community for protecting wildlife helps alleviate this conflict. Wildlife is happy, the people are happy. Not only that- communities who see benefits in wildlife play active roles in protecting it. 
This is not some utopian vision, this is a real effort in action now.
After visiting the conservancy for an intensive study of their practices, impacts, and sustainability plans, Creatura has decided to join forces in helping to bring this conservancy to full fruition. Unfortunately, good wishes don't pay the many bills necessary to run and expand an endeavor like this, but we think that with help from people we know who care, like you, we can make a difference and help build an actual conservation model that works and can spread globally. We need people like you to help put the monetary bricks in place to keep this area safe NOW against threats against it as well as in perpetuity!

 
Wildlife benefiting from the protection this conservancy brings:

Elephants, Lions, Giraffes, Leopards, Cheetahs, Cape Buffalo, Wildebeest, Thomson's gazelles, Bushbuck, Impalas, Dik Diks, Zebras, Hyenas, Warthogs, African Wild Dogs, Topis, Elands, Waterbuck, Olive Baboons, Bush Babies (Galagos), Pangolins, Aardvarks, Hornbills, Vultures, Secretary Birds, Marabou Storks, as well as numerous other bird species, not to mention all the smaller animals and insects that are vital to sustaining a healthy ecosystem…


How You Can Be A Part:

Your help is welcome and needed! The best way to help is to donate funds to registered 501(c)3 Creatura Wildlife Projects. All funds raised will be dispersed to CWCT where is can be easily monitored and accounted for. These funds will be used for the most pressing issues as well as general land leasing payment fund, to be given upon agreement between Creatura and CWCT. These donations are not currently used to pay any admin costs, it all goes to "on-the-ground" needs.

You can also donate specifically to help outfit rangers. These brave people patrol the area, keeping out illegal grazing and settlements, as well as actively trying to locate and bust poachers. They put their lives on the line to save animals and can use help in the form of equipment. Funds donated to rangers will be used as needed to buy equipment such as thermal cameras, thermal binoculars, med kits, boots, and equipment to document illegal wildlife trade ensuring legal prosecutions.

Please check out our "small projects" page to see individual projects we have going to support a variety of wildlife and well as people in the Olderkesi community!



What about eco-tourism? Is my money supporting a for-profit safari camp located on the conservancy?

NO- your donations will not support a for profit business operation. Cottar's 1920's Safari Camp located on the Olderkesi Conservancy land is funded by itself only, and in fact the profits IT makes are often channelled into the conservancy as well and actually were vital in the creation of the Conservancy. Creatura is working with the non-profit CWTC in assisting with Olderkesi.

(However, if you choose to book a safari that Creatura recommends, you may visit Cottar's 1920 Camp as a paying guest. We recommend Cottar's 1920's Camp exactly for it's commitment to Olderkesi, not to mention that fact it's one of the most stellar camps in the country! Part of the cost of Creatura recommended safaris is donated to Creatura, but the rest go to for-profit but eco and community supporting businesses to create your trip.)

As much as we love and support it, eco-tourism is sadly less viable than it used to be. As the world's turmoils wax and wane, tourism ebbs and flows. It currently isn't enough to support Ol Derekesi on it's own. We need donations from the rest of the world to preserve this vital land that is not only Africa's, but all the world's citizens, global heritage.